I was recently interviewed for the My Life for the Code podcast with Shawn Rakowski. It was an excellent experience. Shawn is an exceptional host and I really like his podcast and blog. He's a guy working hard in Minnesota to be a fired up developer and an awesome family man.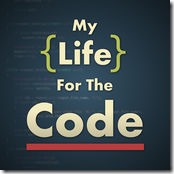 This is a chance for you to learn more about me and hear some of what makes me tick.
The format of his show is similar to mine in the that the idea is to get software professionals to tell stories about the things that have shaped who they are and their experiences with delivering. It was an honor and a privilege to be featured as one of his guests. As you can probably tell, I like stories and I like hearing about what has driven the careers of developers who can be held out as good examples. I think Shawn is doing a great thing by sharing these stories.
Please go and listen to my story. There are some valuable things to learn there and it's just fun. It's good to be able to dig into motivations and history. While you are there, please subscribe to his podcast to keep the stories and inspiration coming.
Thanks, Shawn, for giving me this chance to to share and to be featured.
Shawn will also be a guest on Developer on Fire – so keep an eye on the feed for that.